My name is Lynn Rosskamp and I'm the rat concierge around these parts. My life in rats began in 1997, when my husband Wilhelm and I adopted a rescued lab rat. We fell in love with his ratty ways, discovered the rat fancy community in Western Washington, started breeding and showing in 2001 and have been bossed around by a wonderful colony of rats ever since. We are long time members of RatsPacNW and, with their help, started putting on Ratapalooza, Seattle's pet rat expo, which has been going strong since 2001. I work with a group of carefully chosen Northwest breeders who, like me, care about the health, longevity and temperament of their rats first and foremost. Show ribbons are nice, but my primary concern as a breeder is to know that my rats are treasured members of their human families. We also take in rescues from time to time and highly recommend Best Friend Rodent Rescue if you are looking to enlarge your ratty family with a rescued pet. You can also like us on Facebook for breaking rattery updates. We maintain a streaming live ratty webcam so you can watch the gang party, play and sleep.
For inquiries about the rattery or available babies, please email me at lynn@worldofrats.com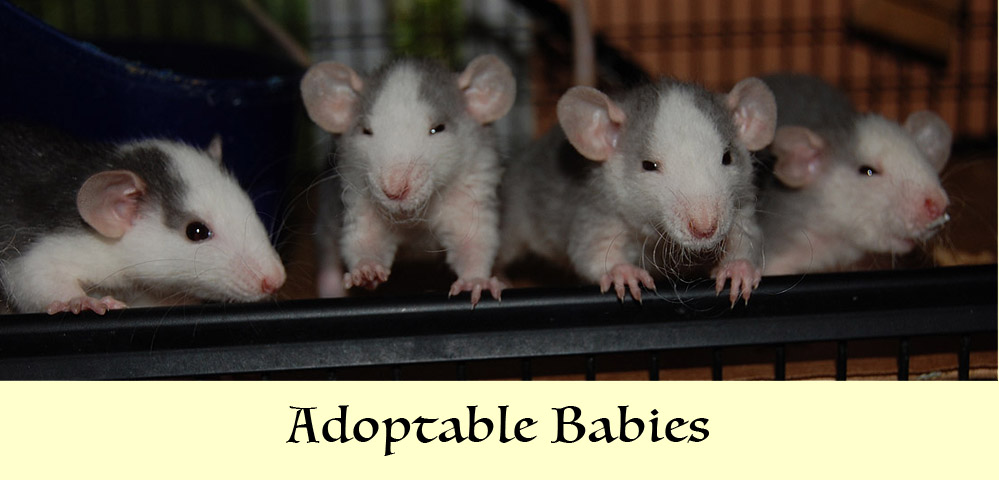 Visit our current litters page to see adoptable babies and fill out our online adoption application to get on our waiting list for current or future litters.
Unless you already have rats at home who need a new friend, we only adopt out our babies in same-sex pairs because rats are social animals who do best in groups of two or more. Our adoption fee is $25 per well-socialized, healthy, pedigreed rat. Please email me for a link to our online adoption form and with any questions about our litters or rattery.
The rats listed in our Resident Ratties pages are not for adoption - they're either part of our breeding program or retired from it or have always simply been pets. If you are interesting in adopting from us check out our Current Litters page.
In light of the recent cases of Seoul hantavirus transfer between pet rats and humans in the midwest, we've done some research on the issue and have written up our research and plans for the rattery going forward, which you can read here. The Washington State Health Department doesn't feel that Seoul hantavirus is currently present in the pet rats of the Pacific Northwest, but we always encourage good hygiene and fact-based education to stop the spread of all diseases that could affect you or your pets.
Contact Lynn, the Rats' Concierge